Half Inca Trail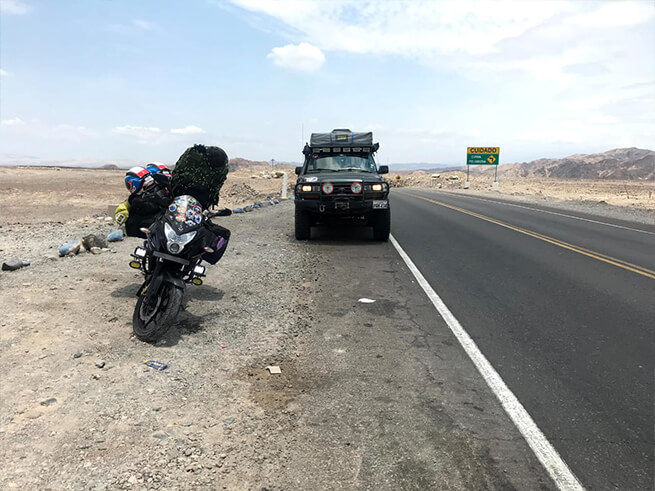 NUMBER OF DAYS: 12 Days 11 Nights
TYPE OF ROUTE: ASPHALT ROAD 90% AND DUSTY ROAD 10%
PRICE PER PERSON: $3.800

Motorcycles:
We offer Royal Enfield Himalayan 411cc. model BS3, BS4, and BS6 for these tours. Motorcycle rental is included in the price of the tour.

About the trip:
Short time for doing the full Inca trail? We invite you to do the fast route of the Incas until Lima where you can drive around the coast of Ecuador & Peru also including the desert.
HALF INCA TRAIL QUITO - LIMA - QUITO 3900 KM/ 2423 Miles quantity
What to expect
Completely relaxed, enjoy your adventure engaging with this new environment free of any possible concern about logistics, everything is sorted. Your party will have a full support team behind their back.
Our tour guides are qualified riders that they feel more like a Swiss army knife, they are good multilingual mechanics, trustworthy adventurers with different backgrounds: mountaineering guides, rock climbers, even musicians.

Tour Guide
ITINERARY
HIGHLIGHTS
Parque Nacional Huascarán
Tomb of the Lord of Sipán
Valley of the Pyramids
Lambayeque
Chiclayo
Reed Horses – Trujillo
Cordillera Blanca
El Pato canyon
Llanganuco lakes
DAY 1: Quito – Guayaquil
DAY 2: Guayaquil – Máncora (Perú)
DAY 3: Mancora – Trujillo
DAY 4: Trujillo – Huaraz
DAY 5: Huaraz
DAY 6: Huaraz – Lima
DAY 7: Lima.- City Tour Lima
DAY 8: Lima.- Compras
DAY 9: Lima – Trujillo
DAY 10: Trujillo – Mancora
DAY 11: Mancora – Guayaquil
DAY 12: Guayaquil – Quito

About the package
The route is the Pan-American E35 and located in the Andes so it's very irregular up and down and curvy, so you should drive behind your guide, The route you will be following during the tour is based on several years' of experience and riding these routes many times.
Road Conditions: The hotel to hotel itinerary is all paved allowing riders to easily complete each day 100% on the pavement. For those wanting an additional challenge, optional dirt and gravel routes are available most days.

Speed
We do not want you to «push your limits»; instead, we want you to be able to lift your head, look around, and enjoy the amazing scenery during the ride by following the guide.
Our goal is a safe drive for the entire route.

Weather and Temperature
Weather and temperature ranges in Ecuador are generally the same year-round. You can expect the chance of passing showers in the highlands but rarely a full day of rain. Chances for a full day of rain are more likely on the western slopes of the Andes in March, April, and early May.
Price Includes

Motorcycles:
We offer Royal Enfield Himalayan 411cc. model BS3, BS4, and BS6 for these tours. Motorcycle rental is included in the price of the tour.

Guides:
Expert local guides bring their knowledge and insight to lead you on stunning rides. They'll set the pace, organize food stops, and sightseeing. These tours suit those who appreciate personal service yet enjoy the fun of riding with a small group of like-minded motorcyclists.
Guidance service includes an English speaking guide on a motorcycle, The Guide will make many stops throughout the day to introduce you to the locals, explain the local history, and show you «hidden gems» that are not common knowledge.

Support Vehicle and Service:
Your luggage will travel with you in our support vehicle, so you can travel light.

Accomoddations on this tour:
All of our hotels are three stars, and the accommodations are based in twin/double rooms and it can be updated to five stars and single rooms, Our accommodations are selected for their exceptional quality, location, and unique character and it is offered by our Private Travel Agency.
Price does not include
Motorcycle Fuel.
Personal Expenses.
Tolls in Ecuador.
Personal Equipment.
International Flight Ticket.
Price per person:
$3.800