Route To The Eje Cafetero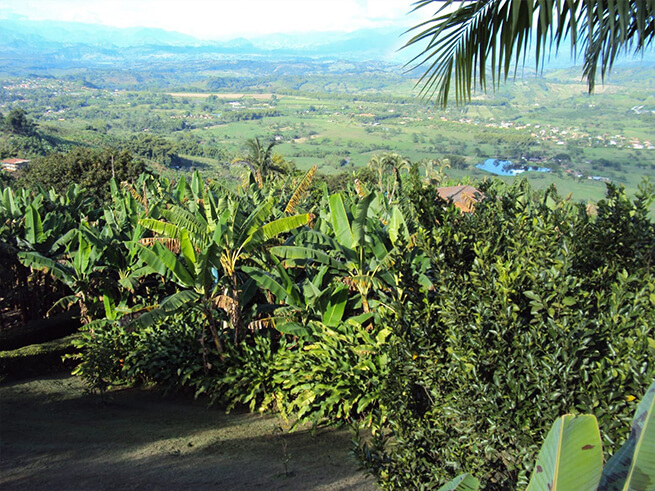 NUMBER OF DAYS: 11 Days 10 Nights
TYPE OF ROUTE: ASPHALT ROAD 100%
PRICE PER PERSON: From: $4.850

About the trip:
Colombia is one of the most famous destinations in Latin America and for many, it is one of the best places for those who love to ride motorcycles.

Once we arrive at our Finca, we will take a few days to discover why Colombia is known as the Country of Coffee and Rum. We will also have the opportunity to visit the Nevado National Park, Quindio National Park, Cocora Valley, Pereira shopping tour (restrictions apply) among others.

After the tour by the coffee area is concluded, we will follow the same route and the same cities, and return to Ecuador.

Motorcycles:
Motorcycles are available in Ecuador and Colombia – We offer Royal Enfield Himalayan 411cc. model BS3, BS4, and BS6. Motorcycle rental is included in the price of the tour.

What to expect
Ecuador is strategically placed in middle of our international routes; in this case south of Colombia.  On this tour you can expect amazing scenery's and unique gastronomy along the way.  Our final destination is the city of Manizales, in the famous Colombia "Eje Cafetero" (Coffee Capital of the world).
We will head north from Quito toward the city of Ibarra where we will have a typical lunch before making a tow and a half ride to the Ecuadorian border with Colombia, where after a 2 hour border crossing we will head down the Colombian mountain region.  This road is offers a unique view of the southern part of Colombia in the area of Nariño.  Colombia is one of the most beautiful countries in south America, specially the central part where we will be heeding to in the next 2 days, the city of Manizales is the capital of the province of Caldas, this area is the coffee and rum capital of the world, among many activities we will do we will visit the a coffee plantation and a Rum distillery where we will see firsthand how these iconic Colombian products are made.
Once in Manizales we will stay at a Coffee Finca, we will always try to give you the most of every country we ride through, therefore a simple 5 star hotel won't do it, the proper way to feel Colombia is to stay at a over 100 year old coffee producing Finca.
** In order to make better use of your time, we also offer this international route with the same duration but with the option of being able to return to your country of origin from Bogota / Cali. In this option the Bogota / Cali tour is much more detailed, with more stops and interaction with the local culture. For pricing and more details please call or email us!
Tour Guide
ITINERARY
DAY 1: Quito – Pasto
DAY 2: Pasto – Popayán
DAY 3: Popayán – Manizales
DAY 4 to 8: Manizales
DAY 9: Manizales – Popayán
DAY 10: Popayán – Pasto
DAY 11: Pasto – Quito

About the route
From Quito we will head north to the province of Imbabura, this province is home to the oldest indigenous market in the Andean Region. This market is known world wide for its unique crafts, and food.
We will ride trough the northern Andes region of Ecuador heading north to the Colombian border, once we cross the border we will be in the province of Nariño in Colombia, this Sothern area in Colombia is very well known for mountains that are part of the western Andes that are extremely cold at night.
The capital of the department of Nariño will surprise you with its beauty in fact, Pasto is affectionately referred to as Colombia's "Surprise City." Pasto is known for its Carnaval de Negros y Blancos and its beautiful buildings, especially the churches that fill each street corner with a sense of austere beauty.
The city is also famous for the creativity of its Nariñense handicrafts. In Pasto, you'll find beautiful, high-quality pieces created using a number of different techniques and materials, such as wood carvings, embossed leather, items woven from wool and fique fibers, and stone sculptures.
From Pasto we will ride on heading north to the city of Popayan, Palmira that is very near to Cali the Salsa Capital of the world, depending on your tour we will stay here for 2 days and get to know this iconic Colombian City.
From Palmira we will head to our final destination the city of Manizales that is the capital city of the province of Caldas where the best coffee and rum is made for the world.
Once in Manizales we will stay at a Coffee Finca, we try to give you most of every county we ride in, there for a simple 5 star hotel wont do it, the proper way to feel Colombia is to stay at a over 100 year old coffee producing Finca.

Speed
We do not want you to «push your limits»; instead, we want you to be able to lift your head, look around, and enjoy the amazing scenery during the ride by following the guide.
Our goal is a safe drive for the entire route.

Weather and Temperature
Weather and temperature ranges in Ecuador are generally the same year-round. You can expect the chance of passing showers in the highlands but rarely a full day of rain. Chances for a full day of rain are more likely on the western slopes of the Andes in March, April, and early May.
Price Includes

Motorcycles:
We offer Royal Enfield Himalayan 411cc. model BS3, BS4, and BS6 for these tours. Motorcycle rental is included in the price of the tour.

Guides:
Expert local guides bring their knowledge and insight to lead you on stunning rides. They'll set the pace, organize food stops, and sightseeing. These tours suit those who appreciate personal service yet enjoy the fun of riding with a small group of like-minded motorcyclists.
Guidance service includes an English speaking guide on a motorcycle, The Guide will make many stops throughout the day to introduce you to the locals, explain the local history, and show you «hidden gems» that are not common knowledge.

Support Vehicle and Service
Your luggage will travel with you in our support vehicle, so you can travel light.

Accomoddations on this tour
All of our hotels are three stars, and the accommodations are based in twin/double rooms and it can be updated to five stars and single rooms, Our accommodations are selected for their exceptional quality, location, and unique character and it is offered by our Private Travel Agency.
Price does not include
Motorcycle Fuel.
Personal Expenses.
Tolls in Ecuador.
Personal Equipment.
International Flight Ticket.
Price per person from:
$4.850
Other guided motorcycle tours
Find the best motorcycle rentals and tours here