Quito-Lima-Uyuni (Bolivia)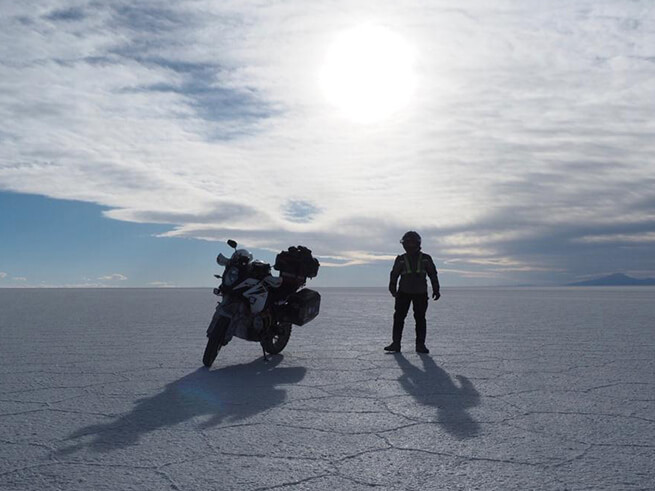 NUMBER OF DAYS: 28Days – 27Nights
TYPE OF ROUTE: 80% ASPHALT ROAD, 10% DIRT ROAD, AND 10% UYUNI SALT FLATS
PRICE PER PERSON: From $7.990

About the trip:
This is undoubtedly one of the most traveled tourist routes by motorcycle in the world. Leaving Lima we head south along National Route 1 towards Paracas, Huacachina, Nazca where we will make a mandatory stop to see the famous Nazca lines, and then continue along the Arequipa-Puno route. At this border point with Bolivia, we border Lake Titicaca and then climb north again towards Cusco.

Motorcycles:
We offer Royal Enfield Himalayan 411cc. model BS3, BS4, and BS6 for these tours. Motorcycle rental is included in the price of the tour.

What to expect
South America motorcycle tours.
Riding from Lima south through the Peruvian southern desert is a once in a life time experience. The contrast between the never-ending sand and the black asphalt is mind boggling to say the least, and this contrast goes on for hundreds on mile's/Km and hours on end.
Your will feel temperatures of over 100F/40C, it is now that our support vehicle comes in very handy. We have a programmed 15 minute stop every one and a half hour to take a short brake and hydrate our self's, this will keep us alert and comfortable.
This ride will take us from north to south along the Pan-American highway heading to the Peruvian Bolivian border. We will enter Bolivia either through "Desagaudero" or "Copacabana" depending on the hour of the day we arrive to Bolivia. After a 3-hour border crossing we will head to "La Paz", and later on head to Uyuni.
We have planed several visits along the way to see and interact with local culture. Bolivia is an incredible county to visit and ride through, and definitely should bee on every Adventure riders bucket list find here the best South America Motorcycle Adventures.
La Paz:
La Paz, Bolivia, will take your breath away; both literally and metaphorically. The city has the highest elevation of any government city in the world, at an altitude of 3,650m. Here is where our Royal Enfield Himalayan feel in there natural habitat, these motorcycles where purpose dinged to cross the Himalayas in India, this route is over 3800m over sea level.
La Paz is situated in western Bolivia, on the 'altiplano'; an extensive highland plateau between the western and eastern ranges of the Andes. La Paz is built in a canyon, carved out by the Choqueyapu River, and is a drainage basin of the Amazon River.
Although La Paz lies just 16° south of the equator, its great altitude results in a cool climate. Regardless of the time of year, the average temperature in La Paz varies by just a few degrees. Daytime temperatures tend to be between 13-19°C, with October and November the warmest months. However, the city experiences a large diurnal temperature variation. Depending on exact altitude, and the time of year, temperatures typically fall by 10-16°C at night. On the suburbs of La Paz, lies El Alto at 4,000m, where the average minimum temperature from May until September is below freezing. Even in the warmest month, the average temperature remains below 10°C, at altitudes above 4,000m. The maximum temperature recorded in La Paz was 27.0°C, with the coldest ever temperature dropping to -12.5°C. Generally, precipitation is low, with the city commonly experiencing showers during the summers and drier winters. In total, La Paz receives around 250mm of precipitation each year, with more than two-thirds of the total falling from December to March, with the risk of destructive mudslides high at this time of year. February and March are the cloudiest months, with less than 5 hours of sunshine each day.
Uyuni:
The "Salar de Uyuni", located in the Daniel Campos Province of Bolivia, this master peace of God looks like it belongs on another planet, and enjoy in motorcycles is madness.
Stretching for more than 4,050 square miles, it is a little smaller than the state of Connecticut, and it is the world's largest salt flat. These salt flats are formed from several prehistoric lakes that dried up some 10.000 years ago, leaving behind hexagonal patterns of salt.
When nearby lakes overflow, or in the rainy season in April, a thin layer of water covers the expanse, transforming it into a massive reflective mirror that makes for jaw-dropping, dreamlike photos.
** In order to make better use of your time, we also offer this international route with the same duration but with the option of being able to return to your country of origin from La Paz. In this option La Paz tour is much more detailed, with more stops and interaction with the local culture. For pricing and more details please call or email us!
Tour Guide
ITINERARY
DAY 1: Quito – Guayaquil / 418 Km
DAY 2: Guayaquil – Máncora (Perú) / 319 Km
DAY 3: Mancora – Chiclayo / 392 Km
DAY 4: Chiclayo – Trujillo / 206 Km
DAY 5: Trujillo – Huaraz / 341 Km
DAY 6: Huaraz – Lima / 402 Km
DAY 7: Lima – Ica / 301 Km
DAY 8: Ica – Puerto Inca / 304 Km
DAY 9: Puerto Inca – Arequipa / 409 Km
DAY 10: Arequipa – Copa Cabana / 436 Km
DAY 11: Copa Cabana – La Paz / 154 Km
DAY 11: La Paz
DAY 12: La Paz (city tour formal dinner)
DAY 13: La Paz – Uyuni / 540 Km
DAY 14: Uyuni
DAY 15: Uyuni – La Paz
DAY 16: La Paz – Copa Cabana
DAY 17: Uyuni – La Paz
DAY 18: La Paz – Copa Cabana
DAY 19: Copa Cabana – Arequipa
DAY 20: Arequipa – Puerto Inca
DAY 21: Puerto Inca – Ica
DAY 22: Ica – Lima
DAY 23: Lima – Huaraz
DAY 24: Huaraz – Trujillo
DAY 25: Trujillo – Chiclayo
DAY 26: Chiclayo – Mancora
DAY 27: Mancora – Guayaquil
DAY 28: Guayaquil – Quito
NOTE: In order to have a totally different experience on this tour we also offer the possibility to enter Ecuador on our way back north through Macará, meaning that we will take a detour in Piura (Peru) and head to the amazon region of Peru, offering you the opportunity of getting to know the Peruvian as well as the Ecuadorian Amazon region. The scenery is totally different to the desert that we saw on the way down. So yes, this motorcycle tour through South America will be the best 5,114 miles you've ever ridden!
Fly in Quito – Ecuador , Fly Out La Paz – Bolivia option is also available, this means you will only ride from Quito to Uyuni and back up again to La Paz from where you can fly back home; making this entire tour 14 days ride.

About the route
This international motorcycle adventure tour will take from Quito, Ecuador to Cusco in Peru. A large part of this tour will be using the route that the Incas used for commercial and culture purpose. We will head form Quito south to the Peruvian border.
On this part of the tour, you will see the Ecuadorian Andes while riding down to the flat lands that are part of the province of "Guayas" and "El oro", filled with rice and banana plantations on both sides of the road. Once we cross the border, we will be officially in the Peruvian dessert, this dessert is known for its extra-terrestrial appearance filled with sand and rocks for hundreds of Km.
The ride continues south to on the National Route 30A to Lima, where we will have a 2 day stop to get to see the best that the capital city of Peru has to offer, at the same time we will do some maintenance on our bikes and support vehicle. From Lima we will keep heading south to the city of Pisco, where the national liquor is made, we will visit some specialized stores for you to buy some real 100% Peruvian Pisco. In Pisco we will continue to the famous town of Nasca where we will stop and see the lines of Nasca in the Peruvian desert, this is an obligated strop to see this part of Inca history. We will continue on 30A to the east where we will head to the national park and natural reserve of "Pampa Galeras", this is one of the most beautiful locations in Peru.
Continuing with our tour we will now head to la town of Huasipurco, Cotaruse, Colcabamba and Abancay, now we are really close to our final destination of Cusco! Once in Cusco we will stay for 2 days and see why this part of the world was so greatly influenced bay the Incas, you will see why this city was the pride and joy of the Inca civilization.

Speed
We do not want you to «push your limits»; instead, we want you to be able to lift your head, look
around, and enjoy the amazing scenery during the ride by following the guide.
Our goal is a safe drive for the entire route.

Weather and Temperature
On this international route you will encounter various types of climate. Starting in Ecuador beginning in Quito you will be exposed to Andean cold weather with high probabilities of rain.
As we ride south heading to the Peruvian border thing will get warmer and warmer. Temperatures can range from 26C to 34C, once we have crossed the border we will be officially in the Peruvian dessert where temperatures will easily over 38C, at nigh the desert gest very cloud reaching to 9C-6C. Don't worry about you hydration and food needs, that's what our support vehicles are for!
Price Includes

Motorcycles:
We offer Royal Enfield Himalayan 411cc. model BS3, BS4, and BS6 for these tours. Motorcycle rental is included in the price of the tour.

GUIDES:
Expert local guides bring their knowledge and insight to lead you on stunning rides. They'll set the pace, organize food stops, and sightseeing. These tours suit those who appreciate personal service yet enjoy the fun of riding with a small group of like-minded motorcyclists.
Guidance service includes an English speaking guide on a motorcycle, The Guide will make many stops throughout the day to introduce you to the locals, explain the local history, and show you «hidden gems» that are not common knowledge.
Price does not include
Motorcycle Fuel.
Personal Expenses.
Tolls in Ecuador and Colombia.
Personal Equipment.
International Flight Ticket.
Price per person from:
$7.990
Other guided motorcycle tours
Find the best motorcycle rentals and tours here